Satoko Fujii & Otomo Yoshihide - Perpetual Motion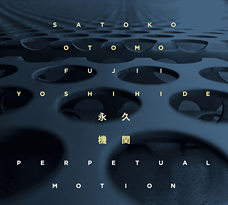 order aylCD-175 - €15.00
personnel:
Satoko Fujii, piano
Otomo Yoshihide, electric guitar
cd tracks:
1. Perpetual Motion I
2. Perpetual Motion II
3. Perpetual Motion III
4. Perpetual Motion IV
Total time: 48'31
Audio excerpts only available at the bandcamp page.
release information:
All music by Satoko Fujii and Otomo Yoshihide.
Recorded by Takanori Terabe on January 10, 2022
at the « Pit Inn », Shinjuku, Tokyo, Japan.
Mastered by Mike Marciano at Systems Two Studio, Long Island, USA.
Graphic design & layout by Stéphane Berland.
1 CD 2-fold/3-panel Digifile.
aylCD-175
Although these two Japanese masters of creative music are both very prolific (prolific is actually still euphemistical when you look at the discography of both giants), this is their very first duo recording.
"Perpetual Motion" is the perfectly chosen title for the music performed, 'cause the beginning doesn't seem as the start of the recording. It looks like the musicians were already been playing together for a while before the recording button was pressed. So is also the end! It has the same alienated and haunting atmosphere as the beginning and doesn't seem like an end. Has this music a beginning or an end anyway?
In any case, a lot happens between those 2 'moments' that are about 47 minutes apart. To keep the system of the perpetual motion going, one cannot act independently from the other. When there is the slightest change in pace or intensity generated by one musician, the partner has no other choice than to follow/explore the chosen path. The partners have to be musically intertwined very closely.
(from John Sax's liner notes)
Order our CDs directly using

reviews