Sarah Murcia - Never Mind the Future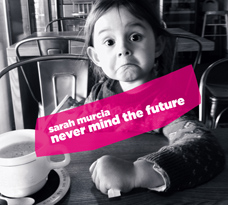 order aylCD-149 - €13.00
personnel:
Sarah Murcia, double-bass, voice, sh101
Benoît Delbecq, piano
Mark Tompkins, voice
Olivier Py, saxophones
Gilles Coronado, electric guitar
Franck Vaillant, drums, percussion
cd tracks:
release information:
Recorded May 2015 at Midilive and mixed Oct. 2015
at Studio Boxson by Philippe Teissier du Cros.
1 CD Digipack.
aylCD-149
Sarah Murcia presents "Never Mind the Future", a variation on the Sex Pistols' "Never Mind the Bollocks" album. In dissecting and reinterpreting each song, it is not a simple exercise in covering tunes but a will to actually feed on the music of the Sex Pistols in order to express hers. A music that blends jazz, rock and song, where Sarah Murcia is accompanied by her band 'Caroline', with the addition of pianist Benoît Delbecq and dancer/crooner Mark Tompkins. It is also a way to return to a mythical group and to a worship album that, as a listener, I myself started listening to when I was 8 years old... I guess it was just the right time for Sarah and I to meet one another and go forward with this project.
Order our CDs directly using

reviews