Dennis González Yells At Eels + Alvin Fielder - Resurrection and Life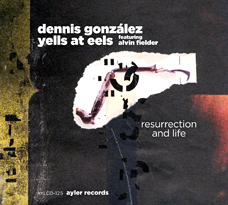 order aylCD-125 - €13.00
personnel:
Alvin Fielder, drums
Dennis González, C trumpet, Bb cornet, fluegelhorn
Gaika James, trombone
Aaron González, contrabass
Stefan González, vibraphone, drums
cd tracks:
release information:
Recorded in Dallas, USA on July 23-24, 2010
and September 17-18, 2011.
Cover art by Dennis González.
1 CD Digisleeve.
aylCD-125
In August of 2009, drummer Alvin Fielder, the legendary AACM founder, was near death, seemingly at the end of a long and productive life. Indeed he had already died several times, only to be brought back by doctors each time during a grueling seven months of grave illness. After his amazing recuperation, the 76-year-old living treasure travelled to Dallas during the summer of 2010 (and then again in September 2011), specifically to visit trumpeter Dennis González and sons (contrabassist Aaron, and vibraphonist/drummer Stefan) and work on this Yells At Eels project, with several days of rehearsal, recording and relaxation, along with the talented young trombonist Gaika James, joining the González clan on these occasions and providing the perfect sound to round out the quintet. The aptly named Resurrection and Life presents the most inspired moments of these Texan sessions.
Order our CDs directly using

reviews