Return Of The New Thing - Traque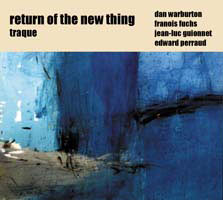 order aylCD-010 - €10.50
personnel:
Dan Warburton, p, vln
Francois Fuchs, b
Jean-Luc Guionnet, as, ss
Edward Perraud, dr
cd tracks:
release information:
#1 recorded in concert at Studio Val d´Orge,
France , on February 16, 2002.
#2-5 recorded at Festival Jazz à Mulhouse,
France, on August 25, 2000.
Cover painting by Åke Bjurhamn.
1 CD Digipack.
aylCD-010
This is excitingly impure music; the options offered by jazz of all kinds, rock, blues, new music, free-improv and beyond are all kept open, and the listener quickly learns that from moment to moment, anything can happen. There is an authentic rampaging energy here, but there's also a smile behind the fury, which sets the album apart from the frowning grandeur of "Ascension" or "Machine Gun" or, for that matter, the "ecstatic jazz" of the 1990s.
Order our CDs directly using

reviews