Marc Ducret - ICI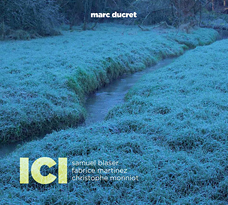 order aylCD-178 - €17.00
personnel:
Fabrice Martinez, trumpet, flugelhorn, tuba
Christophe Monniot, sopranino, baritone & alto saxophones
Samuel Blaser, trombone
Marc Ducret, electric guitars, composition
cd tracks:
1. L'été, ici
2. L'automne, ici
3. L'hiver, ici
4. Le printemps, ici
Total time: 39'39
Audio excerpts only available at the bandcamp page.
release information:
All music composed by Marc Ducret.
First played on site between July 2020 & June 2021.
Recorded, mixed and mastered by Antonin Rayon
at Studio Ouanne, France, in October 2022.
Cover artwork by Sarah Lee & Stéphane Berland.
1 CD 2-fold/3-panel Digifile + 8-page booklet.
aylCD-178
During the 2020's lockdowns, an idea came to mind:
Since it is currently impossible to play THERE, let's make some music HERE!
HERE, the sea is very close; the river is subject to the fluctuations of the tide, the light is constantly changing, the reflections vary infinitely on the uncovered or submerged mud, the seasons illuminate this little corner of land and water differently: everything is moving, everything HERE is about cycles nested in each other, in crossed and concentric rhythms.
The time, the light, the tide, the season: it is the landscape that imposes its rhythm, its reflections, its silences on the music.
(from Marc Ducret's liner notes)
Order our CDs directly using

reviews