Alexandra Grimal, Benjamin Duboc & Valentin Ceccaldi - Bambú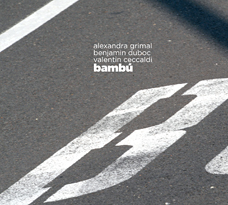 order aylCD-152 - €13
personnel:
Alexandra Grimal, soprano & tenor saxophones, voice
Valentin Ceccaldi, cello
Benjamin Duboc, double bass, voice
cd tracks:
release information:
Recorded May 24-26, 2015
at Ackenbush, Malakoff, France.
Cover photo by Bernard Minier.
1 CD Digifix.
aylCD-152
Now available.
Description coming soon.
In the meantime, check out the preview soundclips
on the release page or bandcamp page.
Order our CDs directly using

reviews