Joëlle Léandre - At Souillac en Jazz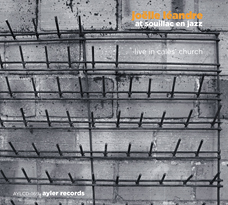 order aylCD-169 - €13.00
personnel:
Joëlle Léandre, double bass, voice
cd tracks:
release information:
All comprovisations by Joëlle Léandre.
Recorded live by Christian Pouget on July 18th, 2021 in the Saint-Jacques church of Calès, Lot, France.
Tracks #7 & 8 were recorded during a private after-set, once the audience had left.
Mixed and mastered by Maïkôl Seminatore.
Cover artwork by Bénédicte Gallois & Stéphane Berland.
1 CD Digipack.
aylCD-169
This solo by Joëlle Léandre concentrates an energy coming out of the depths of the earth, right from the first strokes of the bow. The huge sound, instantly gripping the body, is overwhelming far beyond the music, an experience so strong that tears flow when it comes to the sung parts. From the depths of the ages, evocative of a Native American medicine woman, an Inuit shaman, voodoo priestess or even blues woman, extracting with bare hands her strings rooted in clay, transcending the sound of her double bass, she awakens a thousand-year-old buried 'collective unconscious' with her voice of trance, inviting ancestral spirits to a form of resistance to fight all the injustices of the world, piercing with sound and love the hearts of both aficionados dreaming of impossible musical utopias and of novices stunned by her visceral "duende".
( from Christian Pouget's liner notes )
Order our CDs directly using

reviews