Exploding Customer - Live at Glenn Miller Café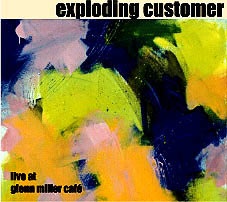 personnel:
Martin Küchen, ss, as, ts
Kjell Nordeson, dr
Tomas Hallonsten, tp
Benjamin Quigley, b
cd tracks:
1. Samael / Smash Hits On Several Exits (we won´t let you in!)
2. Quoting Frippe: (what's the name of the bass player?)
3. Pygmi
4. A Broken Glass
5. Corsican Train
6. Tango du Prison
7. Speak!
Total time: 62:50
release information:
Recorded at Glenn Miller Café, Stockholm, Sweden,
on May 27, 2002.
Cover painting by Åke Bjurhamn.
1 CD Digipack.
SOLD OUT.
aylCD-030
Order our CDs directly using

reviews