home » cd catalogue »

T. Ceccaldi, R. Negro, V. Ceccaldi & A. Chennebault - La Scala
A. Chennebault / V. Ceccaldi / R. Negro / T. Ceccaldi - La Scala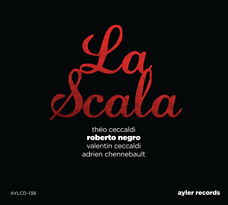 personnel:
Théo Ceccaldi, violin, viola
Roberto Negro, piano
Valentin Ceccaldi, cello
Adrien Chennebault, percussion
cd tracks:
release information:
Recorded at Studio Alhambra Colbert,
Rochefort-sur-Mer, France on March 18-20, 2013.
1 CD Digisleeve.
aylCD-138
An atypical ensemble which brings together Roberto Negro on piano, Théo Ceccaldi on violin and viola, Valentin Ceccaldi on cello and Adrien Chennebaut on drums and percussion, La Scala was born nearly two years ago as a result of a commission for a theatrical production.
The idea here, though, is not so much theatre as ascension (« La Scala » meaning the ladder or the stairway in Italian), a vertiginous pathway through a spiral staircase, a paper stairway, a stepladder, an ever unpredictable rope ladder, used by a sure-footed four-man roped party with a constant ear to each other's movements. A compact formation, La Scala forges ahead, straight to the core, to the top.
In this programme of original music mixing improvisation and composition, navigating between tormented contemplation and explosive lyricism, the music unabashedly allows itself to be at turns minimalistic, crazy, improbable, festive or unbridled. It's as if Bartok, Schoenberg or Stockhausen had tried their hand at blues, bop, free jazz or even rock, yet still intensely sculpting the sonic texture while letting a sense of humour sneak in.
There is no elevator to La Scala - one must climb up there by their own means, and fearlessly embark on this musical adventure.