Boiron/Chevillon/Gastard - Là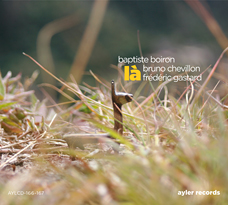 order aylCD-166-167 - €18.00
personnel:
Baptiste Boiron, soprano, alto & tenor saxophones
Bruno Chevillon, double bass
Frédéric Gastard, bass saxophone
cd tracks:
release information:
All music composed and arranged by Baptiste Boiron at Centre d'Art de Kerguéhennec, France,
except #1-5 by Duke Ellington, #2-2 by Keith Jarrett & #2-5/7 by John Coltrane.
Recorded, mixed and mastered by Fred Woff. Cover photo by Baptiste Boiron.
2 CD Digisleeve.
aylCD-166-167
As a saxophonist, Baptiste Boiron has been navigating between jazz and contemporary music. He has performed with many improvisers as much as he has interpreted the scores of famous composers.
As a composer for this recording, he offers a superposition of ostinatos and proposals, as much as polyphonic abundance and the multiplication of modes of play, conventional or alternative. This diversity is only matched by the multiplicity of writing processes, testifying to a long experience in the classical and contemporary field. These processes are relayed here by his two fellow musicians who, in addition to spaces left to their initiatives as improvisers, have contributed to the completion of the scores in which the boundary between the premeditated and the 'impromptu' blurs.
The repertoire – all originals, except for three titles – is dedicated to various artists (musicians or not, "who helped me build myself" says the composer) whose names are only delivered to our perspicacity in the form of anagrams. They say something more about this music where the narrative qualities and emotion show through beautiful instrumental and compositional techniques.
Order our CDs directly using

reviews