Niels Jørgen Steen's Beatkapell - The Åhus Concert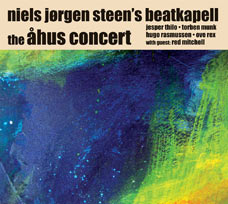 order aylCD-065 - €10.50
personnel:
Jesper Thilo, ts, vo
Torben Munk, g
Niels Jørgen Steen, p
Hugo Rasmussen, b
Ove Rex, dr
Red Mitchell, vo (5)
cd tracks:
1. Blues for the Summer
2. I Want a Little Girl
3. How High the Moon
4. Hey Lock
5. Perdido
6. The Flat Foot Floogie
7. Good Night
Total time: 49:30
release information:
Recorded at the Åhus Jazz Festival, Sweden,
on July 15, 1973.
Cover painting by Åke Bjurhamn.
1 CD Digipack.
aylCD-065
Order our CDs directly using

reviews