news
Spring Roll | Printemps - Transcriptions & Translations
Transcriptions and/or translations of Julien Boudard's text, Xavier Papaïs' conference excerpts and
poems by Bashô, William Shakespeare and Robert Walser that you can hear in Printemps and Spring Roll,
are available for download below.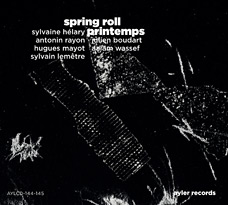 > Julien Boudard's text (read by Aalam Wassef) in Printemps - English
> Xavier Papaïs' conference excerpts in Printemps - English
> Bashô, Shakespeare and Robert Walser's poems in Spring Roll - English
> Julien Boudard's text (read by Aalam Wassef) in Printemps - French
> Xavier Papaïs' conference excerpts in Printemps - French
> Bashô, Shakespeare and Robert Walser's poems in Spring Roll - French

Very special thanks to Françoise Hélary, Elizabeth Rowley-Jolivet, Aalam Wassef and Julien Boudart
for their invaluable help in compiling, checking and proofreading these.
CALL FOR SUPPORT
[ Originally posted on Sept. 9th, 2015 - Still valid at the time of latest update ; November 18th, 2018 ]
I'm sincerely sorry to bother you with that kind of things, but... Sure I could go to indiegogo, kisskissbankbank (or else) and try my luck, however I'm in a hurry to announce that the label is desperately in need of direct (website) orders. For the first time in years, the accounting shows that we'll soon be out-of-business, whatever way we're looking at it. And you know what? Only half of you all faithful followers (here on the website mailing list, on facebook or on twitter) ordering a single release (although multiple-title orders are welcome too...) could make a huge difference and ensure that the releases I've got in preparation are not doomed before they can be brought to completion.
[STATEMENT]
In relation with the above message, I hereby solemnly declare that I, Stéphane Berland (just like my beloved predecessor Jan Ström) never ever took a cent from the activity and revenue of the label (having managed to provide food and shelter to my multi-species family using other means to 'make a living' for us), all of it having systematically been used to fund the next release, one after the other. Just to make sure you can't think I'm funding a pool or car or bowl of cat food.
Thanks for your time reading my plea.
And many thanks to the (too) few (unfortunately) of you who already treated us with their orders these past months and weeks.
If you'd like to be informed further,
don't hesitate to sign up for our email newsletter
(we rarely send more than one a month).
Stay tuned.
IN THE WORKS...
[Latest EDIT: November 18th, 2018]

2017 was one of the slowest years for the label, with only two new releases [ namely *Garden(s)* and *Bambú* - see catalog for details ].

Since the beginning of 2018, we've managed to release saxophonist Christophe Monniot's work as composer along with Sylvie Gasteau (sound designer) and Le Grand Orchestre du Tricot with their *Jericho Sinfonia*. Also released was drummer Peter Bruun's *Vernacular Avant-garde* in a quartet setting and the duo of Valentin Ceccaldi (cello) and David Chevallier (guitars), titled *Zèbres*.

Recently released or in the final stages of 'production/development' for the final 2018 releases are a handful of recordings involving the *Ikui Doki* trio of Sophie Bernado (bassoon and voice), Hugues Mayot (saxes and clarinet) and Rafaelle Rinaudo (harp and effects), the duo *Chez Hélène* of Marc Ducret (electric guitar) and Joëlle Léandre (double bass), guitarist and composer Scott Fields' Ensemble's *Barclay*, the last installment in his "Beckett trilogy", then pianist Cécile Cappozzo trio's *Sub rosa* with Patrice Grente (double bass) and Etienne Ziemniak (drums).

Last but not least, the final catalog number ever for the label (aylCD-160) will go to the avant-metal Killing Spree trio second release, *Boko Boko Tour*, a live album recorded in Japan last April.
Stay tuned.