Steve Swell - Live at the Bowery Poetry Club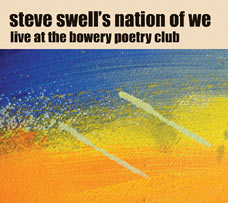 personnel:
Saxes: R. Brown, W. Connell, S. Yasuma, S. Mateen, R. Moshe
Trumpet: R. Campbell, L. Barnes, M. Lavelle
Trombone: D. Griffin, P. Zummo, S. Swell, D. Taylor
Piano: Chris Forbes
Bass: M. Heyner, T. Nicholson
Drums: J. Krall
cd tracks:
Declaration Of Interdependence
1. First Part
2. Second Part
3. Third Part
4. Fourth Part
Total time: 60:37
release information:
Recorded at the Bowery Poetry Club, NYC
on January 15, 2006.
Cover art by Åke Bjurhamn.
aylDL-005
This is a live recording with a 16-pieces band including musicians who all belong to the most creative of NYC's improvisers. However, the members of the band come from different communities or "camps" in NYC and are brought together by Steve Swell. This recording was made at the band's third gig and the result turned out to set a milestone for creative improvisers in NYC at that time.
Order our CDs directly using

reviews