Marc Edwards - Ode to a Dying Planet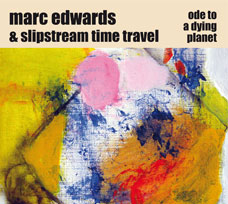 personnel:
Marc Edwards, dr
Jeffrey Hayden Shurdut, p
Tor Snyder, g
Ernest Anderson III, g
cd tracks:
1. Ode to a Dying Planet
2. We're Lost in Space, Aren't We?
3. Cygnus Loop Detail
Total time: 41:49
release information:
Recorded at Michiko's Rehearsal Studios, NYC
on October 20, 2007.
Cover art by Åke Bjurhamn.
aylDL-084
Order our CDs directly using

reviews