Golden Retrieval - Départementale 985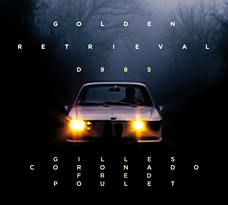 order aylCD-170 - €13.00
personnel:
Fred Poulet, voice, lyrics
Gilles Coronado, guitars, effects, compositions
with guest:
Sarah Murcia, sh101 (tracks #3 & #10)
cd tracks:
release information:
Recorded in Dennecy, near road D985, France.
Recorded & edited by Gilles Coronado.
Mixed by Gilles Coronado & Fred Poulet.
Mastered by Maïkôl Seminatore.
Cover artwork by Stéphane Berland.
1 CD Digipack.
aylCD-170
The soundtrack to a 'reverse road-movie' which would begin at the end of the journey, Départementale 985 sounds like a tragicomedy of stillness carried by the words and voice of Fred Poulet and by Gilles Coronado's compositions and guitars.
This record is the result of a love affair spanning nearly twenty years with the first album of the Golden Retrieval duet of Gilles and Fred, recorded in 2002 by Bruno Letort on his Signature label for Radio France. It was about time that their second effort, created and recorded over 5 days in April 2006, was finally published.
Order our CDs directly using

reviews