Exuberance - Live at Vision Festival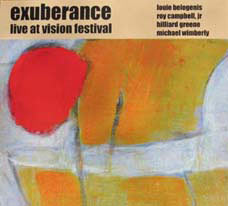 order aylCD-009 - €10.50
personnel:
Louie Belogenis, ts
Roy Campbell Jr, tp, fl
Hilliard Green, b
Michael Wimberly, dr
cd tracks:
release information:
Recorded in concert at the Vision Festival, The Center,
268 Mulberry, NYC on May 24, 2003.
Cover painting by Åke Bjurhamn.
1 CD Digipack.
aylCD-009
New York's annual Vision Festival provides an essential platform for improvising artists to interact in joyous celebration of the music. The hallmark of the festival revolves around veteran performers uniting to make an emphatic statement on the state of the art form. The festival thrives on presenting sounds that are new and startling. This quartet epitomizes the energy, boldness, and daring the festival cultivates and promotes.
Order our CDs directly using

reviews