Tommy Koverhult Trio - Trane to Taube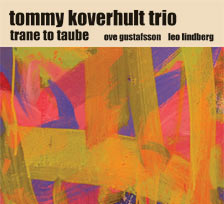 personnel:
Tommy Koverhult, fl, ts
Ove Gustafsson, b
Leo Lindberg, dr
cd tracks:
1. Macken Concert
2. Into the Forest
3. Leo's Bag
4. Psalm 510
Total time: 57:19
release information:
#1 recorded live at Macken, Midsommarkransen,
Stockholm, Sweden, on August 27, 2005.
#2-4 recorded at Pork Sausage Studio, Stockholm,
Sweden, on October 14, 2006.
Cover art by Åke Bjurhamn.
Digital release.
aylDL-042
Order our CDs directly using

reviews