Sylvaine Hélary - Glowing Life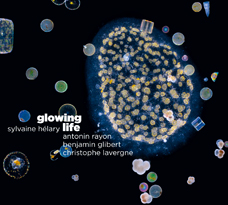 order aylCD-164 - €13.00
personnel:
Sylvaine Hélary, flutes, voice
Antonin Rayon, hammond organ b3, moog synth, piano, clavinet
Benjamin Glibert, electric guitar, electric bass
Christophe Lavergne, drums
cd tracks:
release information:
Recorded June 2020 at Studio Ouanne
by Antonin Rayon & Anaëlle Marsollier.
Cover photo by Christian Sardet & Les Macronautes.
1 CD 2-fold Digifile.
aylCD-164
Sylvaine Hélary's new quartet explores a more electric branch of her work as a composer, creating here heady melodies, romantic sizzles, amplified rhythmic hordes and waves of misty ritornelles. Each piece thus collected, like timeless portraits of imaginary characters and situations, leaves in its wake the traces of a captivating soundtrack. The legacy of ancient legends (Henry Cow, Robert Wyatt, Arto Lindsay, Stereolab) rubs shoulders with the emergence of a world of astonishing dimensions, where the outlines of a singular soundscape are drawn, reflecting various and complementary expressions of the four musical personalities involved who express themselves with joyful freedom. Acting as a bridge between the very English "Canterbury" scene, contemporary jazz and experimental pop, this group produces the sound of a life in scintillating and phosphorescent colors, a refreshing and bewitching "Glowing Life" promising bright futures.
Order our CDs directly using

reviews