Stephen Gauci's Stockholm Conference - Live at Glenn Miller Café, pt. 3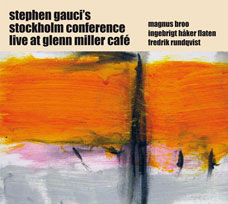 personnel:
Stephen Gauci, ts
Magnus Broo, tp
Ingebrigt Håker Flaten, b
Fredrik Rundqvist, dr
cd tracks:
1. Sunnymoon for Two
2. No One Knows Which is Which
Total time: 54:57
release information:
Recorded at Glenn Miller Café, Stockholm on July 10, 2007.
Parts 1 & 2 of the concert are available as a double-CD
(aylCD-093/94). Check out the cd catalogue or bandcamp page.
Cover art by Åke Bjurhamn.
aylDL-068
Order our CDs directly using

reviews