No School - No School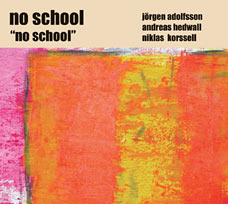 personnel:
Jörgen Adolfsson, as, ss
Andreas Hedwall, tb
Niklas Korssell, dr
cd tracks:
1. Första Lektionen (First Lesson)
2. Christmann's Carols
3. Endless Ragtime
4. Kvarsittning
5. Wuppertal 2
6. Bye, Bye, Blackboard
7. The Map Is On The Wall
8. A Nightmare On Chelm Street
Total time: 45:59
release information:
Recorded at Fryshuset, Stockholm, Sweden, August 23, 2005.
Cover art by Åke Bjurhamn.
aylDL-003
No School tells a story, or more correctly stories. Sometimes they speak, successfully, all the time. All chapters put side by side create a kind of road of refinement and conquest of the epithet "free". One who is knowledgeable in reading and listening can join, bewildered, charmed, disturbed – but never unaffected, because the chapters and the tracks invite us to free interpretation and free listening. Their playing shines with energy.
Order our CDs directly using

reviews