Luther Thomas & John Lindberg - Spirit of St. Louis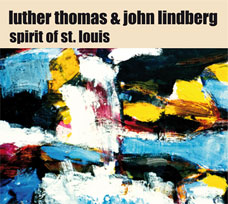 personnel:
Luther Thomas, as, vo, small instruments
John Lindberg, bass fiddle, vo
cd tracks:
1. Introduction
2. Beyond the New Horizon
3. Who Did It?
4. Mice
5. Is Jazz Dead?
6. Not Yet Blues
7. Bloomdido
Total time: 44:14
release information:
Recorded live at Major Beaux's in St. Louis, Missouri
on November 28, 1977.
Cover art by Åke Bjurhamn.
aylDL-064
Order our CDs directly using

reviews