Flow Trio - Set Theory, Live at the Stone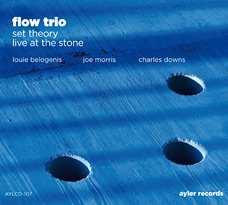 order aylCD-107 - €12.00
personnel:
Louie Belogenis, ts, ss
Joe Morris, b
Charles Downs, dr
cd tracks:
release information:
Recorded at the Stone, NYC, USA on April 24, 2009.
Cover photo by Bernard Minier.
1 CD "Guerilla Series" Mini Single Jewel.
aylCD-107
Louie Belogenis, Joe Morris and Charles Downs (Rashid Bakr) get on a journey full of tension, lyricism and out of this world interplay. Their set builds and expands on the tradition of 60s free jazz, with an up-to-the-minute sense of universal awareness.
Order our CDs directly using

reviews