Copperhead Trio - Labyrinths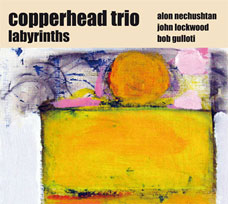 personnel:
Alon Nechushtan, p
John Lockwood, b
Bob Gulloti, dr
Special guest: Bob Moses, dr
cd tracks:
1. Labyrinths
2. The Forking Paths
3. Heart of the Maze
4. Road Maps
5. Corridors of Time
6. Doors into Summer
7. Tunnels in the Sky
8. Nocturnal Journeys
9. Phantasmagorial
10. Lost Horizons
11. The Gates of Illusion
Total time: 60:02
release information:
Recorded at Lily Pad Lounge, Cambridge, MA on September 12, 2004.
Cover art by Åke Bjurhamn.
aylDL-080
Order our CDs directly using