Bengt Frippe Nordström - Frippe's Protocol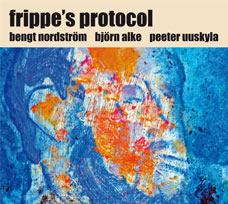 personnel:
Bengt Frippe Nordström, cl, ts
Björn Alke, b, p
Peeter Uuskyla, dr
cd tracks:
1. The Chairman
2. Protocol
3. Hackspettan
4. Clustrafolk
5. Now's the Time
Total time: 56:06
release information:
Recorded at the Museum of Modern Art, Norrköping, Sweden on September 26, 1987.
Cover art by Åke Bjurhamn.
aylDL-086
Order our CDs directly using

reviews